it feels weird making a new topic for a game this old
psychonauts is a platformer style game and is the brain child of Tim Schafer at Double Fine. the general tone of the game is light and quirky. platformers are my favorite genre of game (idk why) and this is one of my top 3 platformers (and exploration type games too) of all time
I decided to make a topic for it because Day[9] recently discovered and played Psychonauts (and loved it)
I didn't know it was possible to not have played psychonauts but I figured I'd be careful and check (ach)
Characters 9/10:
the characters are, when it comes down to it, far quirkier versions of the usual generics. imagine if you took a overly sassy guy who's completely sick with the standardized plot and character mechanisms and then asked him to write the characters: this is what you'd get
Art 9/10:
psychonauts was released in 2005 for the original xbox. normally this would categorize a game as "a great classic, but be ready for your eyes to bleed while you delude yourself into thinking the content makes it worth it," but in this case it's not actually a big deal. psychonauts went with an art style called "fucking weird" and part of the point of it is that a 3rd grader could have drawn it. yet somehow, everything comes out looking great (for that style). I gave it a 9 since I like this style and they did it well, but if I didn't like the style I would have rated it a lot lower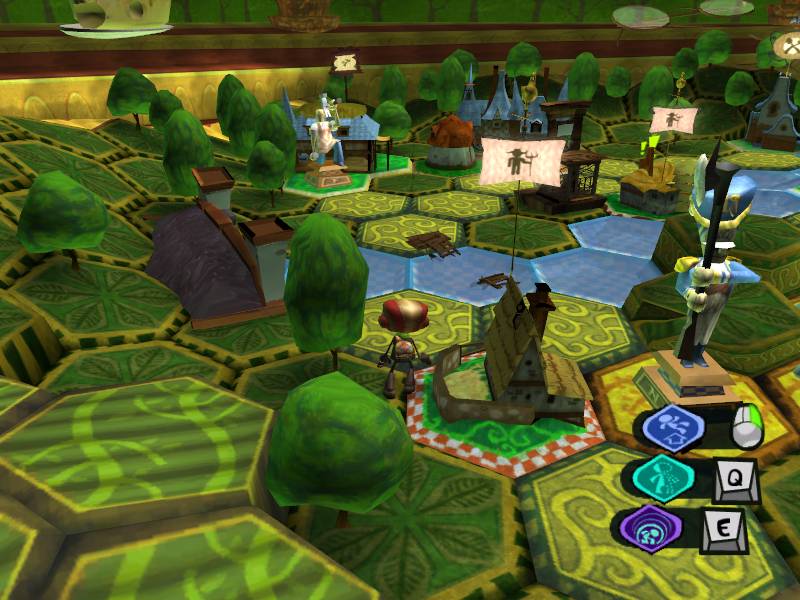 World 10/10:
this is probably the strongest individual aspect of the game. although it begins in a confined learning zone area, the game quickly allows for very satisfying exploration and discovery. the level designs are absolutely brilliant. they have that rare level of depth and thought where the entire level is just a giant easter egg. some of the best level themes I've ever seen in any genre of game are here
Story 9/10:
very whimsical and comedic, but still full and compelling (well, as compelling as a comedy can be anyways)
Dialogue 9/10:
the conversations between characters are hilarious but not necessary. the vast majority of them are, more-or-less, easter eggs that compliment the open world aspect of the game. as you explore the camp you stumble on different kids and can join their conversations. theyre very skippable in some ways but they certainly add a dimension to the world
Gameplay Mechanics 8/10:
every platforming game fails at two things. camera and combat. psychonauts does a lot better than most though, you'll never wonder "what the fuck is the camera looking at" but expect to get a headache after enough time.
combat is actually really good. the "lock-on" system is super simple and, usually, seamless (it has some trouble with distances). Day[9] actually mentions this, saying "every platformer should have these exact combat controls"
as far as movement goes: it's not twitchy and you very rarely feel cheated ("I totally had that"). the levitation-ball, an ability which effects movement, works well and most of its short-comings are part of its pro-cons rather than bugs.
Ending 7.5/10:
recently I've watched/played enough anime/games that I've started caring whether or not the ending was decent before deciding whether to watch/play it. the ending of psychonauts is lacking in one main way. gameplay-wise, it attempts to be a final test for all the "platforming" skills learned so far. it ends up being hard for the wrong reasons. between small bugs and unclear objectives, expect to be frustrated. if this was a different game, i probably wouldn't have rated the ending so critically but I'd expected a lot more after all the build up
the story remains strong and funny. but it leaves a very open ending so be prepared for that
Psychonauts was so good because of how its pieces came together. despite rating most of my categories 9's, I can't think of a single part of the game I would want to change (...besides the bugs in the final level)